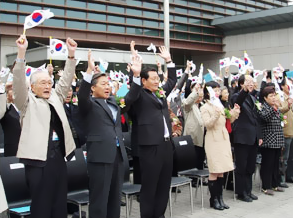 This program was initiated in 2003 to enable next of kin family members to visit the graves or the memorials of their fallen loved ones.
The MPVA will cover all the expenses including airfare, hotel accommodations and transportation for one member of the bereaved family but only the expenses except airfare for an accompanying family member.
Selections are made by Korean Embassies abroad, incooperation with established Korean War Veterans Associations. Traditionally the program has been held around United Nations Day (October 24th) and includes.
Number of Participants
30 bereaved family members of Korean War veterans are invited as guests of the MPVA.
Participants become acquainted with Korean culture, visit industrial sites to see the successful transformation of the nation first-hand, and visit the graves of their loved ones in the United Nations Memorial Cemetery.
United Kingdom

Turkey

Canada

Australia

Netherlands

New Zealand

Republic of South Africa

France

Norway

South Korea

United States

Others
| Total | United Kingdom | Turkey | Canada | Australia | Netherlands | New Zealand | Republic of South Africa | France | Norway | South Korea | United States | Others |
| --- | --- | --- | --- | --- | --- | --- | --- | --- | --- | --- | --- | --- |
| 2,300 | 885 | 462 | 378 | 281 | 117 | 34 | 11 | 44 | 1 | 36 | 36 | 15 |