Republic of Belgium
List for UN Allies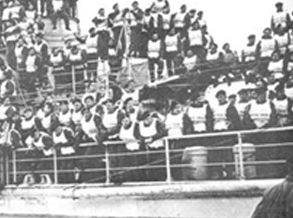 The 1st Belgian Battalion arrived in December 1950 and was attached to the 3rd US Infantry Division in January 1951. It was replaced by the 2nd Belgian Battalion in August 1951. The 2nd Belgium Battalion remained in Korea until June 1955. Assigned to the 29th British Regiment of the 3rd US Division, the Belgian Battalion demonstrated excellent combat capabilities in battles. During the offensive in February 1951, the Belgian soldiers were in charge of Mt. Gumgul, northern part of the Imjin River, while the British Fusilier Battalion was in charge of the left side. On the right side was a steep cliff of the Imjin River, and beyond the cliff was the 65th Regiment of the 3rd US Infantry Division.
At that time, the Belgian Battalion was in a difficult situation. The British Fusilier Battalion was attacked by the Chinese forces and was nearly isolated. At that moment, Lieutenant Colonel Crehigh composedly defended Mt. Gumgul and secured the withdrawal route, so that the Belgian Battalion was able to withdraw safely to Jeongok area where the 65th US Regiment was encamped.
The Belgian Battalion secured the Mt. Gumgul stronghold and blocked the Chinese forces advance for two days, which enabled the 29th British Brigade to withdraw safely to the rear area without suffering heavy casualties. Because of such an outstanding battle at the Mt. Gumgul stronghold, the Belgian-Luxembourg Battalion was awarded official commendations from the US President, the Commander-in-chief of the 8th US Army, and the Belgian Minister of Defense.
Participation History
Unit, Participation Period, Note
Unit
Participation Period
Note
Belgian Battalion
Jan. 1951 to Jun. 1955

Assigned to the 3rd US Division in Mar. 1951
Assigned to the 29th British Regiment in Apr. 1951
Assigned to the 3rd US Division in Aug. 1951
Casualty Statistics
Total, KIA, WIA, MIA, POW

| Total | KIA | WIA | MIA | POW |
| --- | --- | --- | --- | --- |
| 440 | 99 | 336 | 4 | 1 |