Republic of Colombia
List for UN Allies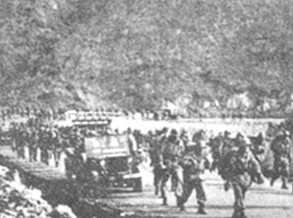 Upon receiving the UN resolution to dispatch troops to Korea, Colombia declared to dispatch one battalion. However, their financial difficulties at home delayed actual dispatch of troops and they had to negotiate with the US on matters of weapon, training, and supply. Colombia first sent naval war vessels, and later sent ground troops to Korea on June 16, 1951. Among the UN member nations, these troops were the last to arrive in Korea.
Although the scale of Colombian forces was small (a frigate ship, an Army Battalion), it is noteworthy that Colombia was the only country in Latin America that dispatched troops to Korea.
The Colombian Battalion was assigned to the 24th US Division, and the Colombian soldiers had the first engagement at the battle of Heukuntoryung. At this bloody battle, the battalion suffered 11 casualties. Later at the battle of Kumsung, the battalion commander was WIA and the battalion also suffered heavy casualties, but they finally succeeded in securing the target area. Afterwards, at the battle of Bolmo Hill they fought against the Chinese forces massive attack, and succeeded in defending the outpost line.
Participation History
Unit, Participation Period, Note

| Unit | Participation Period | Note |
| --- | --- | --- |
| Colombian Battalion | Jun. 1951 to Oct. 1955 | Assigned to the US Division |
Casualty Statistics
Total, KIA, WIA, MIA, POW

| Total | KIA | WIA | MIA | POW |
| --- | --- | --- | --- | --- |
| 639 | 163 | 448 | - | 28 |