Republic of Ethiopia
List for UN Allies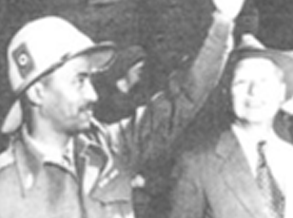 Ethiopia was attacked by Italy in 1935. Because of such an experience, Ethiopia showed a strong determination that the UN must take collective actions in order to maintain world peace. Although Ethiopia was not rich, they decided to follow the UN decision to dispatch troops to Korea.
The Ethiopian Battalion arrived in Korea on May 6, 1951. Upon arrival in Korea, the Ethiopian soldiers were armed with US equipment, and got eight weeks of adaptation training. It took quite a long time for the soldiers to adapt to a new modern weapons system and unfamiliar tactics, but they were quite enthusiastic about their training.
Three days after the Ethiopian Battalion was committed to the front, they had the first engagement with the Chinese forces at Bongdangdeokri in Hwachon area. They won the 4-hour battle, and through the battle the Ethiopian soldiers came to have confidence in combat. After that, they played a part in blocking Chinese attack in the central forward area.
Participation History
Unit, Participation Period, Note

| Unit | Participation Period | Note |
| --- | --- | --- |
| The 1st Kagnew Battalion | May 1951 to July 1952 | Assigned to the 32nd Regiment of the 7th US Division |
| The 2nd Kagnew Battalion | July 1952 to Apr. 1953 | - |
| The 3rd Kagnew Battalion | Apr. 1953 to unknown | - |
Casualty Statistics
Total, KIA, WIA, MIA, POW

| Total | KIA | WIA | MIA | POW |
| --- | --- | --- | --- | --- |
| 657 | 121 | 536 | - | - |