The Republic of South Africa
List for UN Allies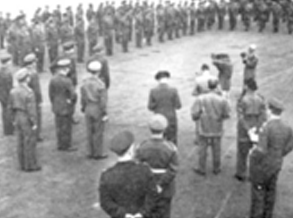 The Republic of South Africa is located on the southern tip of the African continent. The Republic of South Africa used to be very supportive of any kind of UN activities, so that when the Korean War broke out they issued a statement in support of the UN Security Council Resolution on July 1, 1950. In matters of supporting methods, they discussed the matters with the US, got approval of their plan of support from the Congress, and finally decided to dispatch a fighter squadron. The Squadron departed Durban Port on September 4, 1950, and after 40 days of voyage they arrived in Yokohama, Japan, on November 5, 1950.
The Republic of South Africa dispatched air force only. The role of South African 2nd Fighter Squadron was mainly aviation support and interdiction missions as one of the squadrons making up the USAFs 18th Fighter Bomber Wing. For their mission, they used 16 F-51D Mustangs supplied from the US.
The first operational sortie was flown to northern side of the Cheongchun River in the western forward area. It was a time when the UN forces were retreating southward, and the squadrons objective was to strike enemys assembly areas and field supply installations. They had unfortunate accidents right after they began their mission. Two of their combat planes had crashes during landing mainly because of the poor conditions of the landing strips. Afterwards, the South African forces successfully carried out their interdiction mission by bombing railroads, bridges, overhead bridges, tunnels, and railway switchyards which were spread all over North Korea.
Participation History
Unit, Participation Period, Note

| Unit | Participation Period | Note |
| --- | --- | --- |
| South African 2nd Fighter Squadron | Sept. 1950 to Oct. 1953 | Assigned to the 18th Combat Flying Battalion (Nov. 1950) |
Casualty Statistics
Total, KIA, WIA, MIA, POW

| Total | KIA | WIA | MIA | POW |
| --- | --- | --- | --- | --- |
| 43 | 34 | - | - | 9 |