Greece
List for UN Allies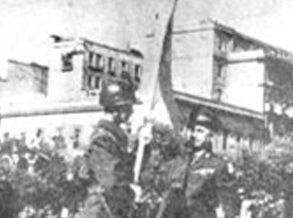 Geographically, Greece was a place of strategic importance connecting Europe and Asia. After World War II, Greece suffered many internal wars with communist insurgents in Greece who were supported by the communist block including the Soviet Union. At that time, Greece had many things in common with Korea, so they continued friendly relations with Korea.
Greece dispatched 840 infantrymen of the Royal Hellenic Battalion and one transport plane squadron. The battalion arrived in Pusan on December 9, 1950. Once equipped and trained, this battalion was assigned to the 7th Cavalry Regiment of the 1st US Cavalry Division.
Greek soldiers demonstrated their combat capabilities when they were defending Hill 381 near Icheon. Later they did wonderful jobs in securing Koyangdae-Daenori Hills near the Imjin River, which were the enemys strategic stronghold.
The 13th Greek Air Transport Flight (Seven C-47s) supported the battle of the Changjin Reservoir after they arrived in Japan on December 1, 1950. They supported the US Marine, and played an important role in sending back casualties to the rear area. At that time, the 13th Flight used Gotori and Hagaluri landing strips, but the landing strips were in a terrible condition.
Participation History
Unit, Participation Period, Note
Unit
Participation Period
Note
Army
Army - infantry company
Nov. 1950 to Dec. 1954
Assigned to the 1st US regiment of horse (Dec. 13, 1950)
Air Force
Air Force - the 13th formation
Nov. 1950 to May 1955
Assigned to the 21st US squadron (Dec. 1950)
Assigned to the 6461st US transportation battalion (Dec. 1950)
Casualty Statistics
Total, KIA, WIA, MIA, POW

| Total | KIA | WIA | MIA | POW |
| --- | --- | --- | --- | --- |
| 738 | 192 | 543 | - | 3 |