Thailand
List for UN Allies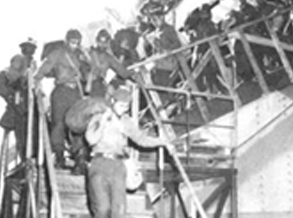 Thailand was the first to assist Korea among Asian countries. On June 30, 1950, five days after the war broke out, they demonstrated their will to support the UN resolution by sending 4 tons of rice. The UN Secretary General praised Thailand for their support, saying that we extend our gratitude for the Thai governments support for the UN resolution and its decision to send food to Korea.
Traditionally, Thailand used to hold the policy of neutrality. However, their decision to participate in the war provided an exemplary challenge to the Soviet propaganda which publicized that only Western imperialists wound dispatch troops to Korea. Their decision also clearly demonstrated the fact that the united efforts of the UN to stop North Korea aggressions were made to secure the blessings of freedom for mankind.
When the dispatch of troops to Korea got delayed, Thailand came to a conclusion that the Thai military forces would send a battalion-size unit of 1,000 soldiers. Besides this battalion unit, Thailand also sent 2 frigates, and the C-47 transport aircraft belonging to Royal Thailand Air Force for the support of naval and air operations.
The bravery of the Thai battalion unit was explicitly demonstrated in the Battle of Pork Chop Hill. In this battle, the Chinese forces attacked the hill three times, but Thai soldiers successfully defended the hill till the end with hand-to-hand fighting and counter strikes. With this battle, the Thai soldiers came to have a nickname, Little Tiger.
Participation History
Unit, Participation Period, Note
Unit
Participation Period
Note
Army
Thailand Division
Nov. 1950 to Jun. 1972
Air Force
Transport Plane
C-47
Jun. 18, 1951 to Nov. 6, 1964
Navy
Frigate Ship
Prasae
Nov. 7, 1950 to Jan. 7, 1951
Bangpakong
Nov. 7, 1950 to Feb. 16, 1952
Prasae II
Dec. 29, 1951 to Jan. 21, 1955
Tachin
Dec. 29, 1951 to Jan. 21, 1955
Transport Ship
Sichang
Nov. 7, 1950 to Jul. 15, 1951
Casualty Statistics
Total, KIA, WIA, MIA, POW

| Total | KIA | WIA | MIA | POW |
| --- | --- | --- | --- | --- |
| 1,273 | 129 | 1,139 | 5 | - |