Turkey
List for UN Allies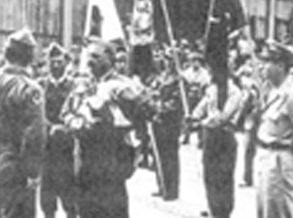 Except for the United States and the United Kingdom, Turkey and Canada were the only countries that dispatched brigade-level units.
Turkey once announced that they would remain neutral in the international affairs. By the end of World War II, however, Turkey took on a pro-west political policy, and, right after the outbreak of the Korean War, supported wholeheartedly the UN resolution of military support for Korea. Moreover, Turkey took immediate measures to dispatch more than 4,500 troops to Korea.
The Turkish Brigade that was dispatched to Korea was mainly the Turkish Army units, and included in the brigade were such branches as infantry, engineering, transportation, medical corps, and ordnance. Thus, the brigade could conduct its own independent operations. During the 2nd phase of Chinese attack in November 1950, the Turkish Army took part in Gunwuri Battle as a right-wing of the US 2nd Division, and in this battle suffered heavy casualties
Particularly impressive in the battle was the Turkish soldiers bravery; when they were on the point of capture by the enemy they refused to become prisoners and attacked forward with their bayonets fixed.
Soon after Kunuri Battle, the Turkish Brigade recovered from the loss they suffered at Kunuri, and the brigade was assigned to the US 25th Division.
Afterwards, whenever they were engaged in battles, the brigade demonstrated their solidarity and strong will to fight in the battles. The Turkish Brigade took part in Operation Wolfhound and Operation Thunderbolt conducted by the US forces. Of course, the Turkish Brigade suffered casualties in these operations, but they inflicted 10 times more casualties on the enemy. Such a victory contributed a lot to giving a boost to the UN forces.
During the joint operations with the US forces, the Turkish Brigade had to go through a lot of difficulties. Among those difficulties, the communication problem was the most serious one, particularly when the battle situations changed rapidly and inaccurate interpretations brought grave losses to them.
Participation History
Unit, Participation Period, Note

| Unit | Participation Period | Note |
| --- | --- | --- |
| 1st brigade | Sept. 1950 to Aug. 1951 | Assigned to the US 25th division |
| 2nd brigade | Aug. 1951 to Aug. 1952 | - |
| 3rd brigade | Aug. 1952 to Sept. 1953 | - |
Casualty Statistics
Total, KIA, WIA, MIA, POW

| Total | KIA | WIA | MIA | POW |
| --- | --- | --- | --- | --- |
| 3,216 | 741 | 2,068 | 163 | 244 |