The New Zealand
List for UN Allies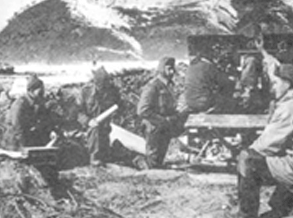 When the Korean War broke out, New Zealand, member nation of the British Commonwealth, agreed to send war vessels according to the UN Security Council Resolution. Then two RN LOCH-class frigates sailed for Korea on July 3, 1950, and arrived in Korea on July 30, 1950. Upon arrival in Korea, New Zealand troops supported the UN naval operations, and later eight New Zealand war vessels took turns to participate in the Korean War until the truce agreement was signed.
Besides, on July 26, 1950, the New Zealand government announced it would raise a volunteer military force to serve with the UN forces in Korea. Known as Kayforce, a total of 1,044 men were selected from volunteers.
Kayforce arrived in Pusan on December 31, 1950. Initially attached to the 27th Commonwealth Brigade, Kayforce went into action on January 29, 1951. In July 1951, Kayforce became part of the newly formed Commonwealth Division.
In Korea, the New Zealand artillery assisted the British Middlesax Infantry Battalion and the Canadian Infantry Battalion with timely fire support around the end of January 1951. Besides, the New Zealand government also dispatched marines, and made a contribution to the UN operations.
Participation History
Unit, Participation Period, Note

| Unit | Participation Period | Note |
| --- | --- | --- |
| The 16th field batteries | Dec. 1950 to Nov. 1954 | Direct assistance to the Commonwealth of Nations 28th Brigade |
Casualty Statistics
Total, KIA, WIA, MIA, POW

| Total | KIA | WIA | MIA | POW |
| --- | --- | --- | --- | --- |
| 103 | 23 | 79 | 1 | - |