Republic of Australia
List for UN Allies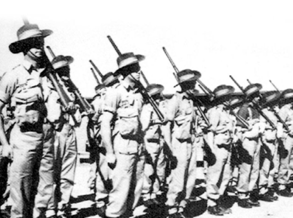 The proposal of Australian governments military assistance to Korea was approved unanimously in the Australian Congress. After World War II was over, Australia maintained 15,000 military forces. Out of these troops, they willingly decided to dispatch one battalion. During World War II, Australian armed forces carried out combined operations with the US forces in the Pacific area.
They also had many military experiences in Europe. Particularly, Australia was a member nation of the UN Commission in Korea. In early 1950, other UNC member nations sent only one officer, but Australia sent two officers and these officers were on the UNC Military Investigation Team.
For this reason, these two officers were quite well aware of the situations of Korea round the outbreak of the Korean War.
When the 3rd Battalion of Royal Australian Regiment(RAR) arrived in Korea on September 27, 1950, the North Korean advance had been halted and NK forces were retreating to the North. Upon arrival in Korea, the 3rd Battalion(RAR) immediately joined the northward advance operations of the UN forces. At the battle of Sariwon, they defeated North Korean troops who were withdrawing from the area with hand-to-hand fighting.
The soldiers of the US 24th Infantry Division noticed how the Australian troops were fighting, and spoke highly of their will to fight. Afterwards, they demonstrated their capabilities in the Battle of Youngyuri, Battle of Pakchun, Battle of Kapyong, and Battle of Mt. Maryang.
Participation History
Unit, Participation Period, Note

| Unit | Participation Period | Note |
| --- | --- | --- |
| 3rd Battalion | Sept. 1950 to Feb. 1953 | Assigned to the 28th Brigade of the Commonwealth of Nations |
| 1st Battalion | Mar. 1952 to Mar. 1953 | - |
| 2nd Battalion | March 17 to 27, 1953 | - |
Casualty Statistics
Total, KIA, WIA, MIA, POW

| Total | KIA | WIA | MIA | POW |
| --- | --- | --- | --- | --- |
| 1,584 | 339 | 1,216 | 3 | 26 |