Republic of the Philippines
List for UN Allies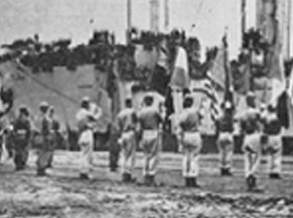 Filipino General Carlos Romulo, who was the president of the UN General Assembly from 1949 to 1950, staunchly advocated the international defense of South Korea. âThe application of military sanctions in Korea is in itself an act of the greatest significance,â he said before the Assembly on 25 September 1950, reflecting on the decision of the Security Council to take military action in the peninsula and on the need to strengthen collective action against acts of aggression.
On 07 September 1950, the Philippine government responded with the approval by the Philippine Congress of Republic Act 573, the Philippine Military Aid to the UN Act, making possible the sending of a Filipino expeditionary force to South Korea to help repel the communist aggression.
On September 19, 1950, the first of five Battalion Combat Teams from the Philippine Army landed in Busan. The Philippine Expeditionary Force to Korea, or PEFTOK, became the eighth UNC ground combat unit to enter the Korean War. Among those who took part in the war was former Philippine President Fidel V. Ramos, as well as two former Philippine ambassadors to South Korea.
The Philippine contingent, despite having to adapt to the Korean winter, fought bravely and took part in decisive battles such as in Yultong and Hill Eerie. A total of 7,420 troops were sent. The five battalion combat teams acquitted themselves creditably in combat. Not one PEFTOK battalion was overrun or made incapable of combat as a result of enemy action despite many hard-fought battles. PEFTOK fought successfully against its main enemy in scores of actions in hills, cities and towns along the 38th parallel.
The Philippines was unique among UN combatants in that it was the only one with an active communist insurgency and the only one whose soldiers had immediate combat experience. A significant number of PEFTOK soldiers had also fought against the Japanese during the Second World War. This combat experience was invaluable in keeping casualties low, and in PEFTOK accomplishing the missions assigned to it.
Participation History
Unit, Participation Period

| Unit | Participation Period |
| --- | --- |
| The 10th Battalion Combat Team (motorized) | Sept. 1950 to Sept. 1951 |
| The 20th Battalion Combat Team | Apr. 1951 (first contingent) to June 1952 |
| The 19th Battalion Combat Team | Apr. 1952 to Apr. 1953 |
| The 14th Battalion Combat Team | Mar. 1953 to Mar. 1954 |
| The 2th Battalion Combat Team | Apr. 1954 to May. 1955 |
Casualty Statistics
Total, KIA, WIA, MIA, POW

| Total | KIA | WIA | MIA and POW |
| --- | --- | --- | --- |
| 490 | 116 | 313 | 61 |